The six shortlisted photos with feedback from the judges
The competition for the cover photo for this year's journal was judged by an Editorial Group panel (RHSoc members who co-ordinate all published material, online and printed).  The members of the panel didn't know who had submitted the photos.  Each person on the panel selected the six photos most suitable, in their opinion, for the cover of Relative Matters 2021, and included comments.  This led to a clear shortlist of six, and it was also clear which one was the outright winner.  Here are the shortlisted photos and some of the comments.  We didn't agree on all points made, but we did agree that the winner was a very suitable photo with no significant weaknesses.
It turns out that it's difficult to select a good cover photo for Relative Matters.  I suspect that the vast majority of our photos are in landscape format, so if you want your photo on the cover next year, be on the lookout for good portrait format subject matter.  Cropping a landscape format photo to portrait rarely works.  The title has to go somewhere, so there needs to be a part of the photo where the title doesn't get in the way too much, or the photo needs to be able to be cropped to allow the title to go above (or possibly below) it.
We hope that these comments will inspire more entries for 2022 when the competition is announced in the Autumn.
Jon Foote, 2021 journal editor
View from Beinn Mhor South Uist - Gill Stephens
A fine photo which would have worked well on the cover, but perhaps it's a good thing it wasn't chosen, as the previous year's cover was also by Gill!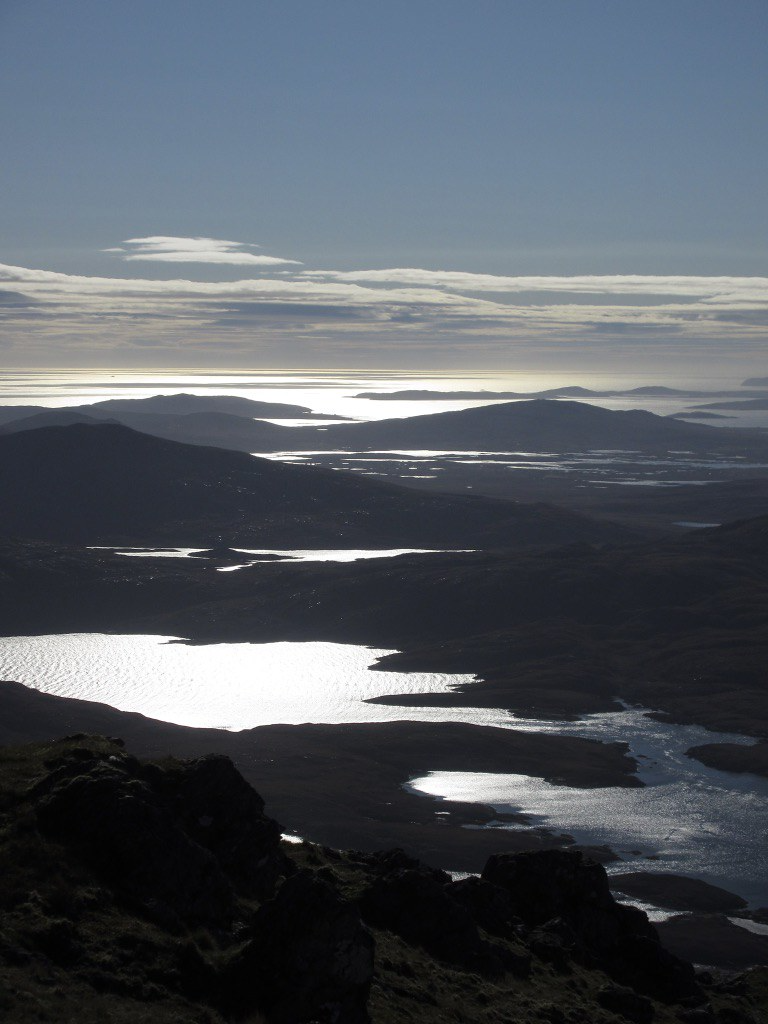 Comments included:
"Great photo, bit dark."
"Slightly hazy."
"Love this."
"Like this.  Monotones may not work so well on cover."
Sgurr Alasdair and friends (Nigel Morters)
This would have worked well as a cover photo, with the title on the plain blue sky.
Comments:
"Classic photo of classic area."
"Nice hills but light a bit ordinary."
"Will reproduce well."
Saddle Yolk and the hills of the Ettrick Forest (Alex Kelso)
Not the easiest of hills to photograph, but this is well composed and has interest from the lighting, texture, and clouds.  It would have needed cropping to fit the A5 format, or could have worked with the title above or below the picture.
Comments:
"Strong image and cropping shouldn't destroy the composition."
Loch Eanich and Braeriach range from Sgor Gaoith (Jenny Hatfield)
This was the winner. A great example of what a modern phone camera can produce.  A detailed image with an interesting composition which leads the eye to wander around it.  It would perhaps have been even better later in the day, but baggers can't be hanging around for hours waiting for the ideal light.
Comments:
"Strong image, but will it need cropping?" (It didn't, fortunately.)
"Sharp, sky ordinary but would work well for putting text on."
"Love this."
"Good composition and detail from a non-standard Cairngorms view."
Clach Glas (Graham Illing)
A tightly cropped photo, so further cropping would have ruined it.  This meant it would have been difficult to add the journal's title, especially as the foreground is too detailed to put text directly on top of it.  A fine contender despite that.
Comments:
"Bold, striking photo."
"Striking, but not so good for title."
Beinn Mheadhoin summit tor, Cairngorms (Graeme Cornwallis)
This one came second overall, though the voting was quite evenly split.  The technical issues mentioned in the comments below could possibly have been overcome by re-scanning, but this is a stunning image anyway.  Another tightly cropped photo which was somewhat spoiled by the title text in a mock-up.  It didn't deserve that treatment!
Comments:
"Great image, colour.  But … too epic?"
"I really like this one but it is a bit soft and there's banding caused by jpeg compression in the sky."