The Marilyns are the best known of the Relative Hills lists covering Great Britain and are the best-loved list of RHSoc members, based on their popularity within our Halls of Fame.
First defined by Alan Dawson in The Relative Hills of Britain, The Marilyns were the first hill list to include the whole of Britain from sea level upwards and represent a huge challenge for a hill bagger. By their very nature, they are spread throughout the nation and require huge amounts of time and effort to complete them – which very few have done to date.
In this introduction, we aim to cover everything you may have wondered about Marilyns, but were afraid to ask!
Definition - What is a Marilyn?
A Marilyn is simply defined as a hill within Great Britain or Ireland with a prominence of 150 metres or more regardless of height.
Hill prominence refers to the relative height compared to surrounding hills. The Relative Hills Society has adopted several Hill Lists which are based on the prominence of the hills relative to adjacent hills. This explanation of hill prominence describes how a Marilyn, sometimes known by the shorthand P150 compares to other types of relative hills in the UK.
If you're wondering why the 150m (c 490 ft) threshold was selected by Alan Dawson, it's because it's similar to the 500 ft prominence criteria selected by J. Rooke Corbett when he compiled his list of Scottish Hills between 2500 feet and 3000 feet.
Alan Dawson has also listed the subMarilyns. These are hills that just fail (by up to 10m) to qualify on the drop rule, i.e. drop of 140m to 149m on all sides.
Why are these hills called Marilyns?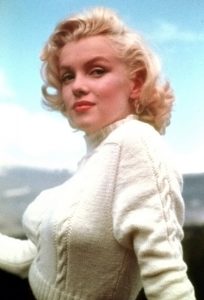 Alan Dawson first defined Marilyns in his 1992 Cicerone Book The Relative Hills of Britain, now only available at a second-hand premium although there are rumours of a second edition in a year or two.
In his book, the author contrasts Marilyns with previously defined hill lists such as the Munros, which are based on the assumption that hills on a list must be a certain height above sea level with a subjective assessment of different peaks by the list originator.
Alan has said that Marilyns are an intentional pun reference to Munros based on the film star, 'Marilyn Monroe', although he doesn't expand on this in the book. We will leave you to draw your own conclusions.
In The Relative Hills of Britain, Dawson explains that "In Britain, 500 feet is significant, and seems a good measure of what makes a separate Hill or Mountain - it feels right".
How many Marilyns are there?
As of mid January, 2021, there were 1,556 Marilyns in Great Britain with 1,219 Marilyns in Scotland, 174 in England, 158 in Wales, and 5 in the Isle of Man.
Precise GNSS Heighting Surveys using Differential GPS are regularly carried out by enthusiasts and there are quite often changes to the List.
202 of the 282 Scottish Munros are also Marilyns – sometimes called Real Munros.
There are also a further 450 plus Marilyns in Ireland; these are based on a list originally compiled by Clem Clements. However, these do not count towards the RHSoc Hall of Fame which is limited to Great Britain (including the Isle of Man)
Lists of Marilyns
The Hill Bagging site (www.hill-bagging.co.uk) has a current up-to-date list of Marilyns  which incorporates new changes. Hill Bagging is used by many RHSoc members who register, to record their progress. Changes to the list are notified on the home page and on the news page of the companion Database of British and Irish Hills.
The Haroldstreet Marilyn's pages also gives options for visualising them, recording ascents and GPS waypoints.
A Wikipedia list of Marilyns is also available, but note that this doesn't always have the latest list.
The challenge for hillwalkers
Since there are over 1500 Marilyns covering the whole of Britain, they represent a huge challenge for a hill bagger. However, there are many ways to break down the challenge. Some start with their local regions or the English or Welsh Marilyns, others will aim for the 600 needed to gain the Marilyn Hall of Fame. However, you decide to tackle them, they often offer an interesting progression or new project for walkers who have completed the better known, non-relative hills lists such as the Munros of Scotland or the Wainwrights of the Lake District.
In Chapter 2 of The Relative Hills,  Alan Dawson explains the challenge like this:
"It will require dedicated commitment and perseverance. Even being a very keen hill walker will not be sufficient, as a small number of Marilyns can hardly be regarded as hills in the usual sense. For example, the tops of Bishop Wilton Wold (Humberside) and Grendon Green (Hereford & Worcester) are just next to a main road, Crowborough (East Sussex) is a town, while Arthur's Seat (Lothian) is in the middle of a large city. It requires a particular type of mentality to be bothered with this type of summit bagging. It's not the sort of thing that is likely to appeal to Reinhold Messner or Chris Bonington, but let's face it not many of us come into that category".
Which is the most difficult Marilyn?
Like most major hill lists, the Marilyns present a few severe problems to the hill bagger who wishes to complete them. Once one has climbed the Inaccessible Pinnacle to complete the Munros, The Cobbler to complete the Corbetts and Stac Pollaidh to complete the Grahams, you will eventually come up against the St Kilda 'Wall'.
The archipelago is situated 40 miles out in the Atlantic from the Outer Hebrides and is very difficult to access. Sea conditions need to be good just to reach the main island of Hirta and accessing the other three islands – Dun, Soay and Boreray – requires a jump into the unknown from a small boat.
Finally, you reach the sea stacks – 150m plus of rock, rearing out of a choppy ocean. To make things even more difficult, access is only allowed once the resident gannets have left for the winter – so October is the earliest you can attempt the climbs.
Through RHSoc many trips are arranged to bag Marilyns and members can join these trips plus access shared information on the best way to reach islands with Marilyns that are not accessible by public transport. An annual trip is usually arranged to bag the St Kilda Marilyns.
Number of completions and active Marilyn baggers
The first Marilyn completer, Rob Woodall, had to wait over ten years after finishing his last mainland Marilyn before gaining the summit of Stac Lee, a Severe rock climb covered in gannet guano to add to the seaborne acrobatics required to even reach the bottom of the climb. Eddie Dealtry completed on the same day, and another group succeeded in 2015 including Jenny Hatfield, the first female completer a year later in 2016. As far as is known, there have been no ascents since, and as of 2020, only 11 people have climbed all the Marilyns.
The RHSoc Halls of Fame
Anyone who has climbed 600 British Marilyns or more is eligible for entry into the Marilyn Hall of Fame.  Anybody wishing to make a claim should initially contact the Membership Secretary, Chris Watson, at hof@rhsoc.uk.
RHSoc hosts the latest Marilyn Hall of Fame which covers British Marilyns in England, Scotland, Wales, and the Isle of Man.
Almost 400 hill baggers have been registered in the Marilyn Hall of Fame for climbing 600 or more and around 140 have reached the Upper Hall with 1000 Marilyns.
Of course, there are hundreds of relatively easy Marilyns around the country and some people have managed 24 in 24 hours to demonstrate what can be done. You can certainly reach the Upper Hall without venturing on anything particularly difficult.
However, by and large, baggers come to the Marilyns from a background of climbing the Munros in Scotland or the Nuttalls in England and Wales so tend to be very experienced, not to mention quite old, by the time they reach that elusive 1000.
Geographical distribution in the British Isles
Unlike some hill lists, such as the Munros or Wainwrights, Marilyns have the appeal that they are distributed throughout Great Britain. So, wherever you live, except East Anglia, there will usually be local Marilyns to climb. This map shows that, as you would expect, they are concentrated in upland areas, with relatively few in the South and East of the country.
Source: Wikipedia - List of Marilyns in The British Isles
If you collect all the Marilyns, you will certainly visit all points of the compass. For the Marilyns of Great Britain these are:
Most Northerly Marilyn: Saxa Vord, Shetland Islands
Most Southerly Marilyn: Watch Croft , Cornwall
Most Westerly Marilyn: Soay, St Kilda
Most Easterly Marilyn:  Detling Hill, Kent